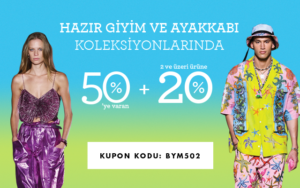 Kampanya Detayları:
Kampanya ile 19-26 Temmuz 2021 tarihleri arasında Beymen'den yapılacak olan 2021 İlkbahar/Yaz sezonu %50'ye varan Büyük Beymen İndirimi'ne ek hazır giyim ve ayakkabı alışverişlerinde 2 ve üzeri ürüne +%20 indirim uygulanacaktır.
Diğer indirim ve kampanyalarla birleştirilemez.
Beymen Perakende ve Tekstil Yatırımları A.Ş. kampanya koşullarında ve süresinde değişiklik yapma hakkını saklı tutar.
Kozmetik kategorisi, Kampanya yasaklı, indirim yasaklı ve konsinye markalar kampanyaya dahil olmayıp ilgili markaların listeleri aşağıdaki gibidir.
Kampanyaya dahil olmayan markalar:
Les Benjamins, CK Jeans, Nike, Vans, Calvin Klein, Tommy Jeans, Tommy Hilfiger, Napapijri, Converse, The North Face, Timberland, Havaianas, Lacoste
Kampanya yasaklı markalar: Christian Dior, Christian Louboutin, Fendi, Miu Miu, Moncler, MTM Corneliani, MTM Kiton, MTM Zegna, Prada, Prada Sport, Z Zegna, Zegna, MTM Beymen, Moncler S, Moncler Gamme Bleu, Visvim For Moncler, Moncler Grenoble, Moncler Gamme Rouge, MTM Armani Collezioni, MTM Lanvin, Moncler R, MTM Canali, MTM Luciano Barbera, Moncler W, MTM Isaia, Moncler Mountain Project, Moncler Capsule, MTM Santoni, MTM Caruso, Christian Loubotin  Beaute, Moncler Genius
İndirim yasaklı markalar: Bee Goddess, Her Story, Kısmet By Milka, Begum Khan, Collection, Mevaris, Collection-Selda Jewellery, Collection-Charade, Collection-Ecce, Collection-Alper Tunçoku, Collection-Sinemis, Collection-By İncifer , Collection-Monan, Collection-Monapetra, Collection-Dione Design, Collection-Ruel Design, Collection-Divdiamond, Collection-Bars Mücevherat, Collection-Pia Yuli, Fujifilm, Lexon, Popsockets, Divoom, Hippi, Giena, Stanley, Tag Heuer, Breitling, Frederique Constant,Transparent Speakers, Rimowa, Vogue, Atolyewolf, Dji, Pineng, Lenco, Ultimate Ears, Jaybird, Logitech, Leica, Woodcessories, Fluxport, Acoustibox, Mous, Stance, Vonmählen, Pixio,Vogtech, By Trio, Polaroid, Ik Multimedia, Roli, Endémique Studio, Akai Professional, Alesis, Orway, Montblanc, Montegrappa, Michael Aram, Smeg, Assouline, Miele, Kitchenaid, Bugatti, Eataly, Miyabi, Djeco, Le Toy Van, Our Generation, Magformers
Konsinye markalar: Bee Goddess, Haremlique, Mon Reve, Aida, Dice Kayek, Nilgün Ata, Özgür Masur, Aida Bergsen, Batya Kebudi,Tohum Design, Raisa & Vanessa, Projebir, Rumisu, Melis Göral, Her Story, Kısmet By Milka, Zeynep Arçay, Baguette, Charms Company, Freyia Jewellery, Mers,  Anais & Margaux, Collection, In The Mood For Love, Iris + Ivy, Ponponiere, March To Shine, Seasons&Stories, Dor Raw Luxury, Ninon, Bloom Jewelry, Elif Mısırlı, Maison Kairos,Sim&Roz, Mevaris, Mergim, Collection-Selda Jewellery, Collection-Charade,Collection-Ecce, Collection-Alper Tunçoku, Collection-Sinemis, Collection-By İncifer, Collection-Monan, Freya and Shala, Nisse, Collection-Monapetra, Fidelle, Peracas, Collection-Dione Design, House of Silk, Tanti Ceramics, Mirela Cerica, Collection-Ruel Design, Collection-Divdiamond, Pınar Kul, Aybike Karayel, Collection-Bars Mücevherat, Evren Kayar, Ayje, Crush, Marlo And Marco, Fifth Sense, Sandshaped, Rhodochrosite, Collection- Pia Yuli, Fonfique, Happy Socks, Rifle Paper Co. , Sera Summer, Puma, Beadberry, Bago, Etty & Jacques, Fjallraven,Bassigue, Fujifilm, Lol, Aden Newyork, Juliette, Baa, Biondina, Lexon, Sisters ,Küf Vintage, Şebnem Günay, Gaios Design, Linya Jewellery, Rains, Nomadic State Of Mind, Pia Brand, Mtoy, Popsockets, Ma Primi Giovani, Freedom Of Space, Jimba, Acoustibox,Divoom, Faraway By Ayşe Boyner, Roru Concept, Mybestfriends, Volonte, Hippi, Manc,Sibi, Lisalina, Muse For All, Chapters, Wouf, Un Poco, Bose, For Fun, Felizist, Deep Six Jeans, Studio Mottos, Giena, Berrin Özkan, Deux Beautes, Socks'n Bubbles, Fifty Pieces, Darwin's Botanicals, Seeka Yoga, Elia, Blinq, Glowing Diaries,Bkr, Elderly Child, Pearly And More, Lando Studio, New Arrivals, Naia, Ayma Active, Cup Of Stars, Susbag, Deercase,Suco, Funsy, Dahlia Bianca, Gp Project, 6×5, Fundaze, Behringer, Bowers&Wilkins, Joue, Pout, Jo Zip, Du2, Hipmask, Saude, Faund, Knowmad, Soontobeannounced, Aisha&Joe, Christian Dior Gözlük, Dolce&Gabbana Gözlük, Fendi Gözlük, Giorgio Armani Gözlük, Gucci Gözlük, Miu Miu Gözlük, Prada Gözlük, Valentino Gözlük, Tom Ford Gözlük, Oliver Peoples, Bvlgari Gözlük, Burberry Gözlük, Divarese, Network, George Hogg, Persol, Ray-Ban, Luna Mia, Oopscool, Accouchee, Schmart, Diency Biel, Divarese Select, George Hogg Sport, Nui Yoga, Belli's, Ryder Act, Wood&Tail, Jerf, Camper, John Frank, Boobag, Katun, Mare Atelier, Rossea, Hummel Hive, Hiva Atelier, Sunglass Hut, Tag Heuer, Breitling, Frederique Constant, Tumi, Boga, Begum Khan, Fpm, Aw By Atolyewolf, Vogue, Victorinox, New Era, Cult of Cuddle, Selin Küçüksöz, Fiji, Atolyewolf Pineng, Kayra Khan, Lenco, Juju, Genius Bowtie, Ultimate Ears, Jaybird, Logitech, Stratic, Xd Design, Leica, Woodcessories, Fluxport, Brace Istanbul, Mous, Dark Horse, Dc Collectibles, Diamond Select Toys, Iron Studios, Nalaha Design, Neca, Square Enix, Tecknomonster, Aybar Craft, Vonmählen, Mo For Every Moment, Pix, Pixio, Vogtech, Funko, Ik Multimedia, Roli, Endémique Studio, Diablo34, Akai Professional, Alesis, Jalic, Keet, 7enough, Kayigo, Orway, Mons Bons, Bird, Xee-fit, Ixtech, Nura, Prada Linea Rossa, Kaiba, Exussboard, Ruck&Maul, Versace, Montblanc, Montegrappa, Arthur Price, El Casco, Ercuis, Georg Jensen, Haviland, Herend, Hiref, Luxuria, Michael Aram, Orrefors, Philippe Deshoulieres, Ralph Lauren Home, Riedel, Rpsenthal, Sambonet, Sırma, Spode, L'objet, Lladro, Smeg, Hamam, Serenk, Mehry Mu, Riva, Jasminium, Unıque by Av, Godinger, Greggio, Zanetto, Royal Worchester, Moser, Kosta Boda, Rivadossi, Pip Studio, Accract, Bastide, Zf Design, Monologue, Dot Design, Assouline, Troika,Dhoku, Anvogg, Casual Avenue, St James, Sırça, Palmhouse Living, Rb Living, Esma Dereboy, Gavia, Poétique Home Couture, Melez Tea, Kısmetce, Beyond Wine, Nao By Lladro , Grace Brands, Romstable, Green Gate, Esteban Cortazar, Miele, Fiolas, Zaya, Baci Milano, Kerstenwer, Fern&Co, Anım, Paon, Alexandre Home, Gaia's Store, Mi Su Casa, Masuma Ceramics, Sandro Moreno, Studio Konstantin, Lights Out, Chez, Moody, Yazzma, Karum, Omar Baban Design, Atölye11, Modesign Studio, Picnic&co, Act, Lamart, Har, Handan, Le Muguet, Table and Sofa, House of Silk Maison, Aylin Bilgiç, Zwiesel 1872, Sirmaison, Creathings, Golden Table Home, Beyz-ı Şah, Nenartworld, Ayşe Tanman, Chiara Alessi, Red Art Istanbul, Goho, Beymen Chocolate, Tiziana Terenzi, Miss Etoile, Aa Paper&co, Küf, Atelier Rebul, Ceremony In Bloom, Bugatti, Ronnefeldt, Old Java, Eataly, Hario, Less., Chado, 3rd Culture, Barine, Mamuxa, Mundo Mondo, Zwilling, Miyabi,Staub, Miss May Frames, Schott- Zwiesel, People Of Coffee, Blanc, 108 Niyettaşı, Büyü, Tufetto, Nikky Mc Bridget, Saf Nutrition, Fameo, Kofre Exclusive, Goodness co, Yiğit Yazıcı & Yunus Çermik, Dem, Home Elements, Tres Jolie Lollie, Les Benjamins, Mariposa Queen Unique, Cannes De Bonbon, Princess Baby, Perapie, Nessi Byrd, Mimijumi, Miss Muse, Merli&Rose, Kietla, Amscan, Morikukko, Ilo, L'avra Studio, Beyin Bey, Be Stella, Baby Fou, Koalav, Miela, Nilue, Minimou Kids, Atelier By Baby, Kidmosfer, Happy & Mini, Milkyway Studio, Pueril, Petite And Cute, Miniscúle By Ebrar, Baby Studio, Abm Yayınevi.